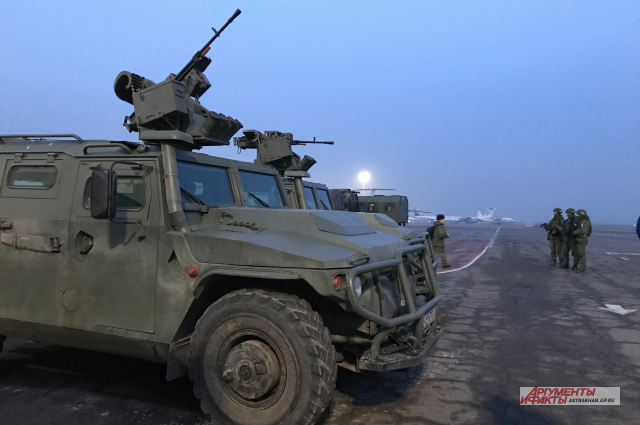 While participating in the CSTO mission on the territory of Kazakhstan, the Airborne Forces of the Russian Federation were armed with their standard weapons. Both new and time-tested.
Kalashnikov assault rifle AK-12 caliber 5.45 mm. On today, this is the most advanced version of the legendary weapon. The main differences from predecessors: the receiver cover and forearm are equipped with Picatinny rails for mounting the front handle, flashlight, laser pointer, etc. The fuse, also known as the translator of fire modes, has 4 positions (fuse —AB (automatic fire) ;Length butt made of impact-resistant plastic. Magazines are equipped with transparent inserts through which you can see how many rounds you have left.
RMB — modernized Kalashnikov machine gun. In difference from machine gun, in machine-gun theme, the paratroopers turned out to be conservative people. Despite the presence of a more modern Pecheneg machine gun in the troops, they remained faithful to the weapon, whose basic modification was adopted for service in 1961 g. PKM has a caliber of 7.62mm and is rightly considered one of the best machine guns in the world in simplicity and reliability.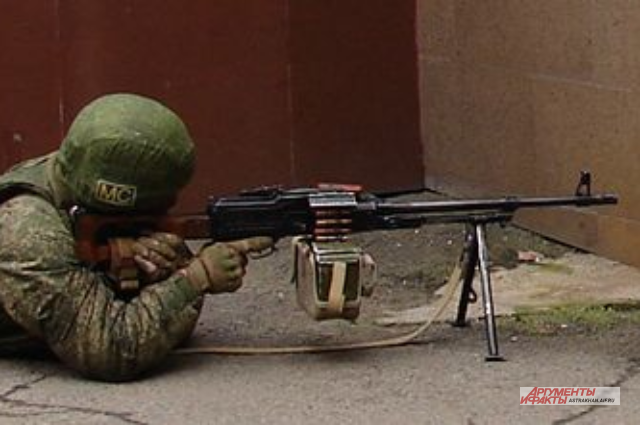 RMB. Photo: AiF/Sergey Osipov
Makarov pistol. Another "long-liver" of the arms world, seen on Russian paratroopers in Kazakhstan. The good old PM still adorns the belts of not only officers of the Airborne Forces, but and the special forces of "blue berets". Once, even a PM with a device for silent shooting caught my eye.
Yarygin's Grach pistol is much more modern than — was adopted for service in 2003 At the same time, it has Bullets "Rook" capable of penetrating body armor of a low level of protection.
Dragunov SVD sniper rifle.Another representative of the Soviet weapons school, who was noted during the peacekeeping mission of Russian paratroopers in Kazakhstan. The weapon, albeit not new , is in armament of all contingents of CSTO peacekeepers.
Army large-caliber ASVK sniper rifle — much more modern and powerful sniper rifle, created in 2004 a team of designers of the plant named after. Degtyarev in Kovrov. One of the few rifle complexes in Russia created according to bullpup layout. Caliber 12.7 mm, firing range up to 1500 m.
Tiger armored car — multi-purpose off-road vehicle. "Tiger" and its modifications are produced at Arzamas machine-building plant with YAMZ-5347-10 engines. Combat weight from 5.3 to 7.6 tons. Crew of 2 people plus from 4 to 6 passengers. "Tigers" paratroopers in Kazakhstan were armed with 22.7 mm machine guns.
Armored car "Typhoon-K". Compared to the "Tiger, it is a heavier machine. The curb weight of the armored car reaches 14 000 kg, and full 16 000 kg. Machine length — 6760 mm. Width −2550 mm. Height −2840 mm. Ground Clearance — 433 mm. A diesel six-cylinder engine with a capacity of 350 hp is installed. Maximum speed on highway — 105 km/h. Power reserve up to 850 km. Capacity — 10 people. "Typhoon" can be equipped with a combat module with a 12.7-mm machine gun. /26/1949202/7ebc90bd57d1150a007eda6da579667e.png" height="425″ width="640″ style="display: block;" />
"Typhoon-K". Photo: AiF /Sergey Osipov
BTR-82 — Russian armored personnel carrier, which is a deep modernization of the BTR-80. Adopted for service in 2013 Combat weight 15.4 t., crew 3 persons, landing force 7 persons, gun caliber 30 mm.
BMD-2 airborne fighting vehicle— Soviet and Russian combat tracked amphibious vehicle. Designed for use in airborne troops and landing by parachute or landing method. Adopted for service in 1985 year. Until recently, the BMD-2 was the heaviest (combat weight 8.2 tons), but now tanks have begun to appear in the armament of the airborne assault divisions of the airborne forces. However, they were not taken to Kazakhstan.
Withdrawal of the CSTO peacekeeping forces from Kazakhstan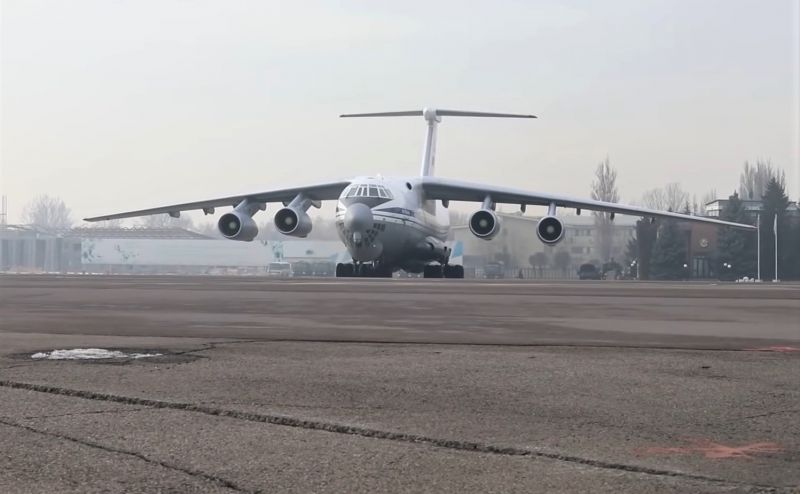 Il-76 aircraft of the military transport aviation of the Russian Ministry of Defense for the export of military equipment and personnel of the Russian contingent of the CSTO peacekeeping forces from Kazakhstan to the point of permanent deployment, at the airport "Almaty" © Ministry of Defense of the Russian Federation
Loading military equipment from the Russian contingent of the CSTO peacekeeping forces onto the Il-76MD aircraft of the military transport aviation of the Russian Ministry of Defense at an airfield in Kazakhstan © Ministry of Defense of the Russian Federation
Loading the personnel of the Russian contingent of the CSTO peacekeeping forces into the Il-76 aircraft of the military transport aviation of the Russian Ministry of Defense at the Almaty airfield in Kazakhstan for departure to the point of permanent deployment © Ministry of Defense of the Russian Federation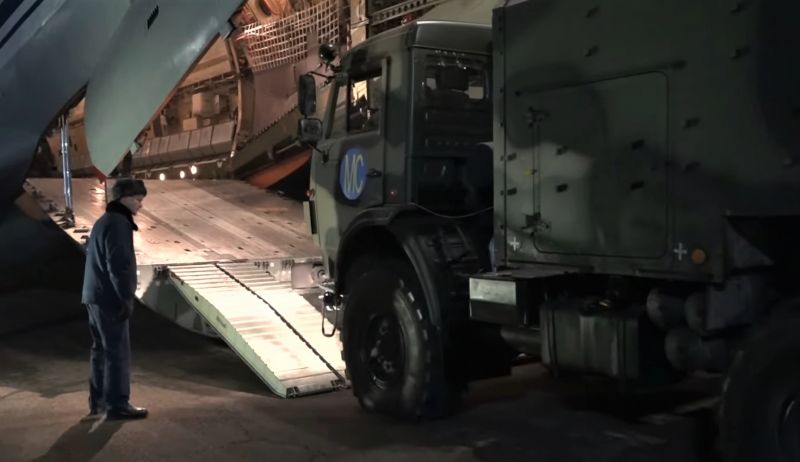 Loading of military equipment from the Russian contingent of the CSTO peacekeeping forces onto the Il-76MD aircraft of the military transport aviation of the Russian Ministry of Defense at an airfield in Kazakhstan © Ministry of Defense of the Russian Federation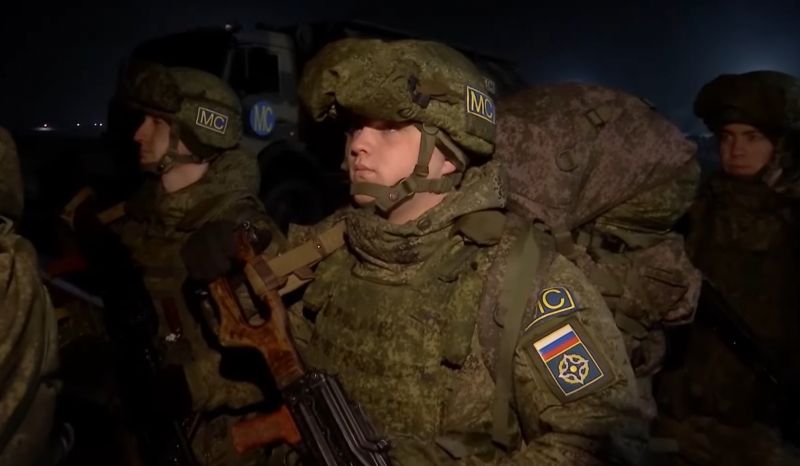 Loading the personnel of the Russian contingent of the CSTO peacekeeping forces into the Il-76 aircraft of the military transport aviation of the Russian Ministry of Defense at the Almaty airfield in Kazakhstan for departure to the point of permanent deployment © Ministry of Defense of the Russian Federation < /i>
The Il-76 aircraft of the military transport aviation of the Russian Ministry of Defense for the export of military equipment and personnel of the Russian contingent of the CSTO peacekeeping forces from Kazakhstan to the point of permanent deployment, at the airport "Almaty" © Ministry of Defense of the Russian Federation < p>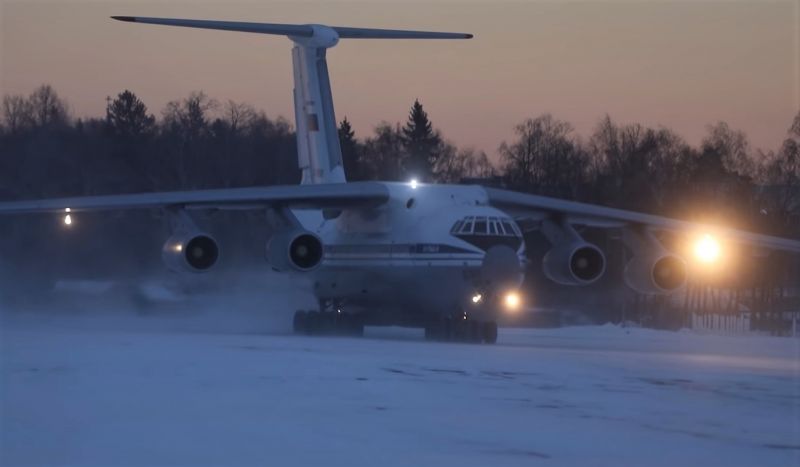 Il-76 military transport aircraft landing at the airport in Ivanovo © Russian Ministry of Defense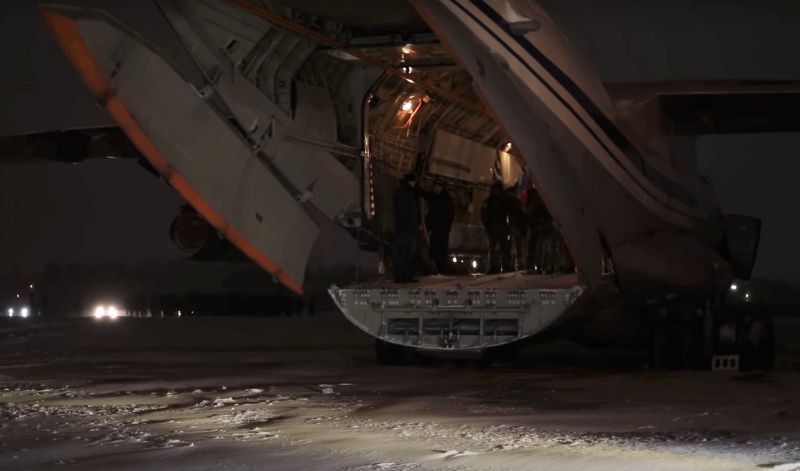 Il-76 aircraft with Russian peacekeepers arriving at the Ivanovo-Severny military airfield © Ministry of Defense of the Russian Federation
Russian peacekeepers at the Il-76 aircraft during a solemn meeting after their arrival at the Ivanovo-Severny military airfield © Russian Ministry of Defense
Russian peacekeepers at the Il-76 aircraft during a solemn meeting after their arrival at the Ivanovo-Severny military airfield © Russian Ministry of Defense
Unloading military equipment from the Russian contingent of the CSTO peacekeeping forces from the military transport aircraft of the Russian Ministry of Defense at the airport in Ivanovo © Ministry of Defense of the Russian Federation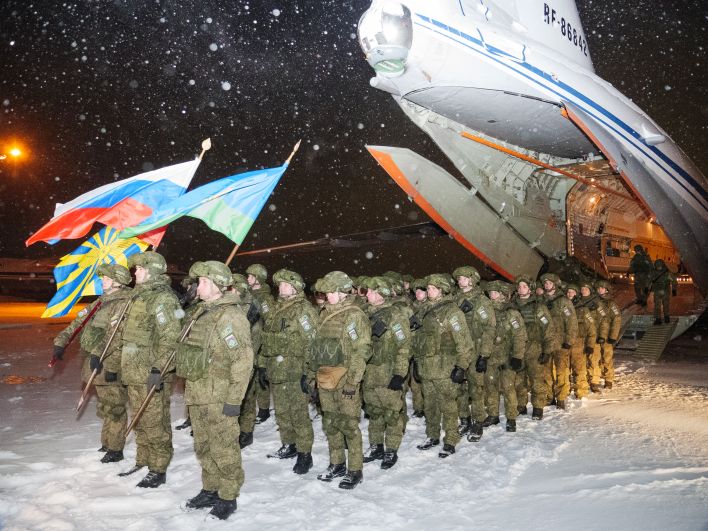 Russian peacekeepers during a solemn meeting after their arrival at the Ivanovo-Severny military airfield © RIA Novosti/Dmitry Ryzhakov
Withdrawal of the CSTO peacekeeping forces from Kazakhstan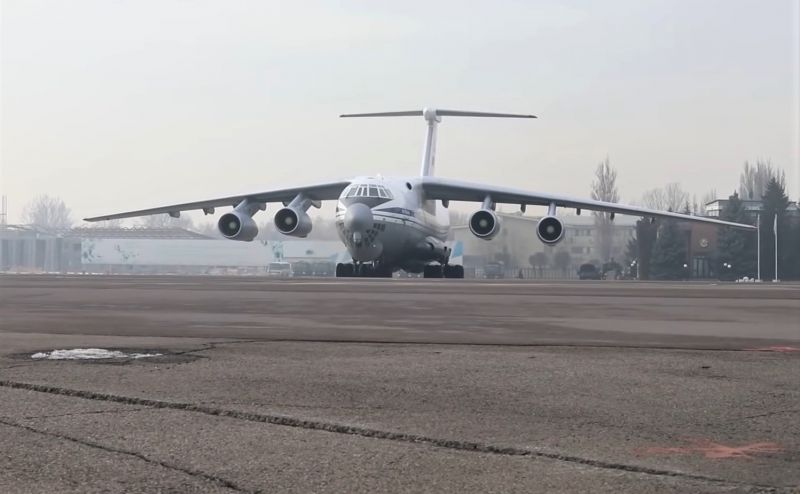 The Il-76 aircraft of the military transport aviation of the Russian Ministry of Defense for the export of military equipment and personnel of the Russian contingent of the CSTO peacekeeping forces from Kazakhstan to the point of permanent deployment, at the Almaty airport © Ministry of Defense of the Russian Federation
Loading of military equipment from the Russian contingent of the CSTO peacekeeping forces onto the Il-76MD aircraft of the military transport aviation of the Russian Ministry of Defense at an airfield in Kazakhstan © Ministry of Defense of the Russian Federation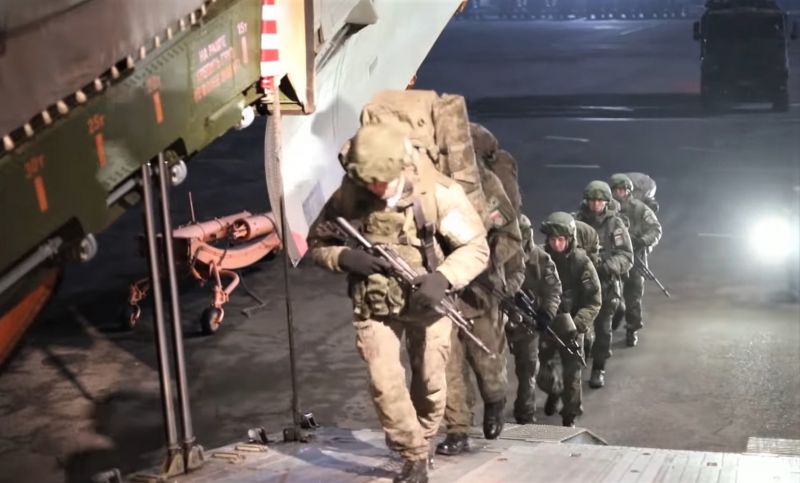 Loading the personnel of the Russian contingent of the CSTO peacekeeping forces onto the Il-76 aircraft of the military transport aviation of the Russian Ministry of Defense at the Almaty airfield in Kazakhstan for departure to the point of permanent deployment © Ministry of Defense of the Russian Federation
Loading of military equipment from the Russian contingent of the CSTO peacekeeping forces onto the Il-76MD aircraft of the military transport aviation of the Russian Ministry of Defense at an airfield in Kazakhstan © Ministry of Defense of the Russian Federation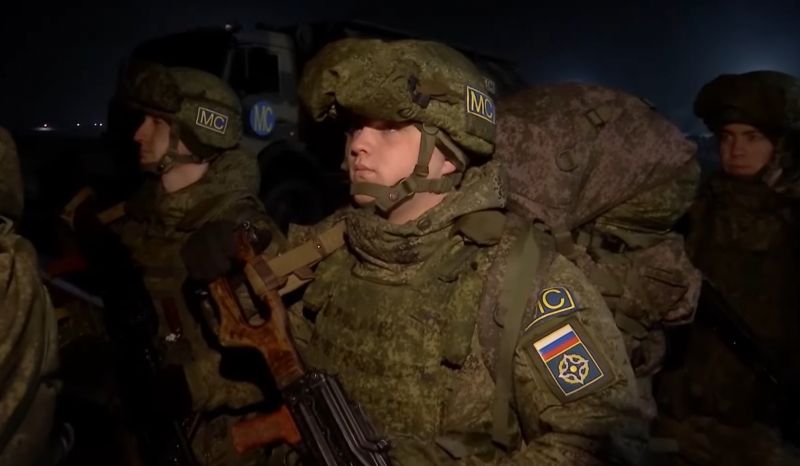 Loading the personnel of the Russian contingent of the CSTO peacekeeping forces into the Il-76 aircraft of the military transport aviation of the Russian Ministry of Defense at the Almaty airfield in Kazakhstan for departure to the point of permanent deployment © Ministry of Defense of the Russian Federation
Il-76 aircraft of the military transport aviation of the Russian Ministry of Defense for the export of military equipment and personnel of the Russian contingent of the CSTO peacekeeping forces from Kazakhstan to the permanent deployment point, at the airport "Almaty" © Ministry of Defense of the Russian Federation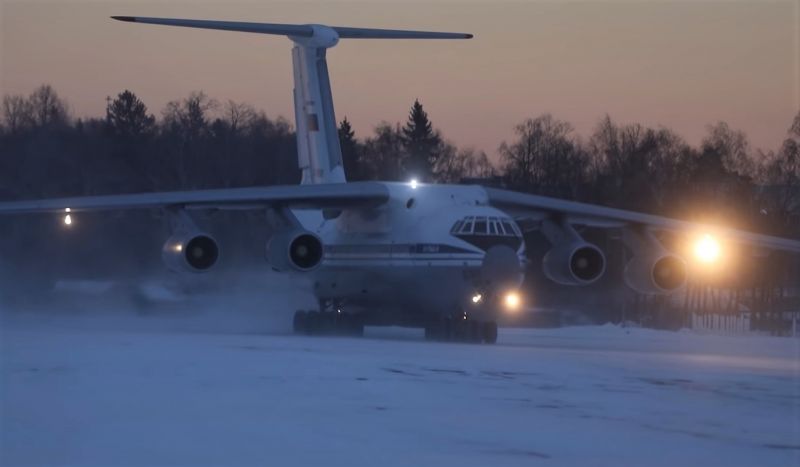 An Il-76 military transport aircraft landing at the airport in Ivanovo © Russian Defense Ministry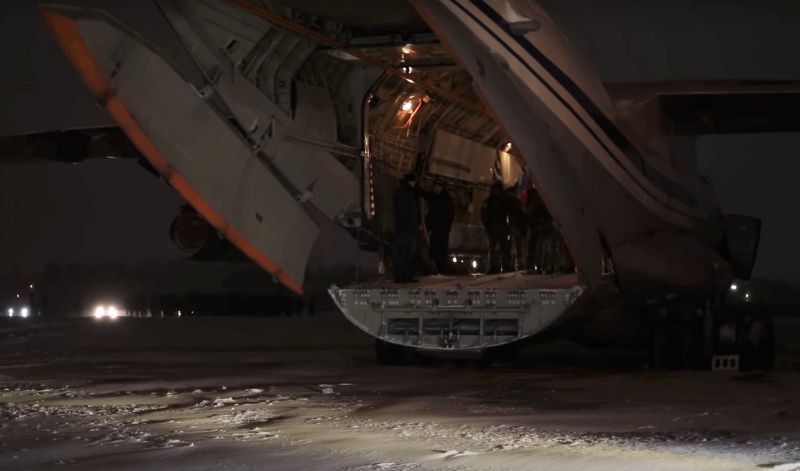 Il-76 aircraft with Russian peacekeepers arriving at the Ivanovo-Severny military airfield © Russian Defense Ministry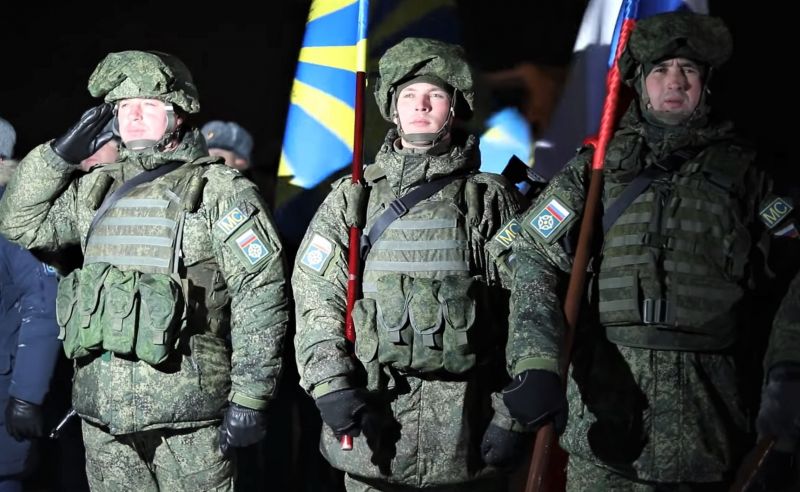 Russian peacekeepers at the Il-76 aircraft during a solemn meeting after their arrival at the Ivanovo-Severny military airfield .jpg" height="531″ width="794″ style="display: block;" />
Russian peacekeepers at the Il-76 aircraft during a solemn meeting after their arrival at the Ivanovo-Severny military airfield © Russian Defense Ministry
Unloading military equipment from the Russian contingent of the CSTO peacekeeping forces from the military transport aircraft of the Russian Ministry of Defense at the airport in Ivanovo © Ministry of Defense of the Russian Federation
Russian peacekeepers during a solemn meeting after their arrival at the military airfield Ivanovo-Severny © RIA Novosti/Dmitry Ryzhakov